In Part I of V in "What Would a 2K Football Game Look Like?", we look at the basics: the players. The Madden games have had basic ratings for their players for years now, which makes for unrealistic gameplay (i.e. everyone more or less plays the same—which we know isn't the case in the NFL or anywhere else). We'll break down the player ratings, and yes, badges. Plus, we will do an example player at the end of Part I to give you an idea of how a player will "look" in an NFL 2K game.
Part I: Players
THE BASICS
There are plenty of different body types when it comes to football players, but you wouldn't know that if your knowledge was solely based on how they look in Madden. The EA Sports tired video game franchise has basically one, arcade-looking body type. The linemen are all jacked, the kickers are built like linebackers, fat guys aren't fat, and skinny guys aren't skinny. Also, the players who don't go in for face scans look absolutely nothing like themselves, and they mess up hairstyles all the time (in Madden 16, Tevin Coleman had dreads in the game; this year, it's Malcolm Mitchell with the dreads he doesn't have in real life). It honestly could not be any worse.
A 2K football video game, like NBA 2K, would likely have almost all players look like they do in real life thanks to face and body scans. NBA 2K is able to update how players look, including hairstyle, throughout the season, while Madden 17 still has Malcolm Mitchell with dreadlocks—and it's January.
Perhaps the biggest thing that differentiates players on the field is their gear. EA Sports is miles behind where they should be here, with gear that is not at all unique. NBA 2K games have had arm sleeves for years now, while Madden games just added "arm sleeves," which turned out to just be long sleeves for one arm, rather than an actual arm sleeve that ends at the bicep, as you can see here on Le'Veon Bell (photo credit: Pittsburgh Steelers):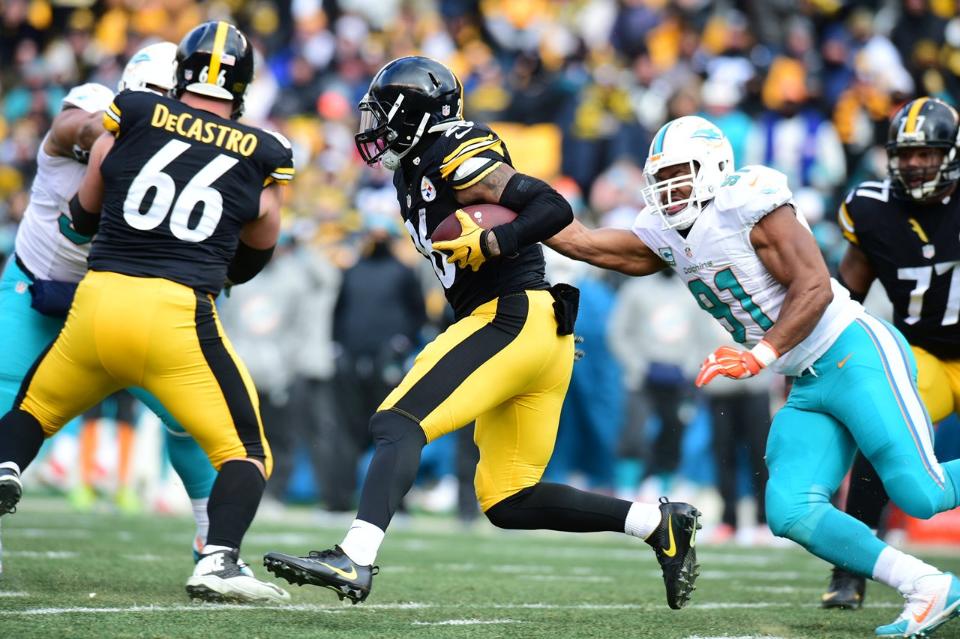 EA Sports has also declined to give players the ability to wear forearm sleeves like Antonio Brown or Philip Rivers. The word used is declined because there is clearly a way to get them in the game, as even ESPN NFL 2K5 had forearm sleeves.
An NFL 2K game would be detailed from the helmets to the cleats. When Russell Westbrook, Derrick Rose, or others were forced to wear a mask in real life thanks to a facial injury, 2K Sports was able to give them the mask in NBA 2K. How cool—and realistic—would it have been to have Matthew Stafford wear a custom glove for when he hurt his finger, or for a running back to take off his gloves when there are rainy conditions? Both are and should be possible, but EA Sports has become complacent with the exclusive NFL video game license.
PLAYER RATINGS
Anyone that has played Madden should know how the player ratings work. For those that need a refresher, they are pretty basic (speed, agility, awareness, tackle, throw power), with the least basic being things like block shedding and throw on the run. They have recently added an intangibles rating, but it has no apparent impact on the game.
Now, anyone that plays NBA 2K should know their ratings are much more in-depth, despite basketball being a much simpler game than football. A good idea for a hypothetical football game would be having no overall ratings because it limits players and makes it unrealistic. In Madden, for example, Bears RB Jordan Howard was probably rated in the 60s to start the season, so there is probably no chance he would get 1,000 yards or have a good season (in real life, he was second in the league in rushing with over 1,300 yards as a rookie).
Instead, we would get people that actually know the game of football to provide full ratings for players—because it is clear that the Madden developers have limited football knowledge—but no actual overall rating. We will have player models with ratings and badges after the "Badges" section.
BADGES
Badges will work how they do in NBA 2K games, which helps to differentiate the players and have them perform and look like their real-life counterparts.
QB Badges
Championship DNA: steps up in championship games
Comeback Kid: team is never out of it with him at quarterback
Deep Ball Specialist: throws a pinpoint deep ball
Scramble Drill Specialist: at his best when the play breaks down
Surgeon: disects the defense with accurate passes
Pocket Monster: difficult to bring him down with arm tackles
Back Shoulder Specialist: throws perfect back shoulder passes (Aaron Rodgers)
Cerebral Assassin: can tell if the defense is in man or zone
On-field Coach: can audible into any play in any formation with the right personnel
Streaky Passer: prone to hot or cold streaks
Home-field Advantage: unstoppable when playing at home
Play-action Specialist: sucks the defense in with his play-action fakes
Cannon Arm: can bomb passes, including Hail Mary plays
Laser Arm: can fit passes into tight windows with frozen ropes
Turnover Machine: prone to turnovers
Game Manager: doesn't make key mistakes and doesn't turn it over
Zone Read Runner: effective keeping it on option plays
Veteran Calls: gets calls that others don't (i.e. roughing the passer)
Cadence Champ: higher chance of drawing the defense offsides in short yardage situations
Free Play Specialist: good chance of a free play thanks to offsides or too many men on the field
Short-yardage Maven: ability to convert short yardage situations as a runner
Quarterback Sneak Specialist: ability to pickup positive yardage on quarterback sneaks
Field General: makes others around him better
Dome is Home: puts up monster numbers in indoor games
Snowman: snow does not negatively impact his play
Mike Check: ability to identify the blitzers before the play
Staring Down the Barrel: unafraid of stepping into throws when taking a hit
Extra Eyes: can avoid a pass rusher coming free from behind
RB Badges
Touchdown Machine: has a knack for converting at the goal line
Chain Mover: can dominate a possession with first down after first down
Screen Specialist: effective at catching screen passes
Matchup Nightmare: consistently wins when matched up with linebackers
Track Star Speed: sees a speed increase when he gets into the second level
Elite Receiver: possesses wide receiver skills at the running back position
Bruiser: shakes off arm tackles and falls forward on most tackles
20/20 vision: sees holes that most can't
Elite Patience: can stay behind the line of scrimmage until a hole opens up
Workhorse: gets better with more touches as the game goes on
Dime Cutter: elite change of direction
Ankle Breaker: makes defenders look foolish with jukes in the open field
Golden Arm: has a deadly stiff arm
0-60: immediately gets close to top speed when accelerating
WR Badges
Deep Threat: can easily get behind the defense and draws double teams when going deep
Better than 50/50: comes away with most 50/50 balls
Back Shoulder Specialist: has great ability to connect on back shoulder passes
Red Zone Specialist: has a knack for scoring in the red zone
Chain Mover: great at making first down catches
Sticky Hands: can easily make one handed catches
Unguardable: gets open despite double teams and shaded coverages
Alpha Dog: excels as the #1 receiver
Beta Dog: excels as a #2 receiver with an alpha dog
Slot Expert: highly effective from the slot
YAC: can take a short pass to the house
Running Back Skills: plays like a running back with the ball in his hands
Double Move Master: leaves defenders in the dust with double moves
Crisp Route Runner: creates separation with elite routes
Golden Hands: doesn't drop passes
Catch in Traffic: makes contested catches over the middle with defenders hitting him
Elite Blocker: a willing and effective blocker
Boundary King: excels at making catches near the sidelines and back of the end zone
Circus Catcher: can make spectacular diving and jumping catches
OL Badges
Mobile Blocker: excels as a blocker in space
Bully: throws smaller defenders out of the way
Bulldozer: clears running lanes
Second Quarterback: ability to make checks at the line and identify blitzers
Elite Protector: keeps the quarterback upright
Pancaker: stacks up the pancake blocks
Versatile: can play multiple positions on the line
General Defensive Badges
Big Hitter: lays the wood on defense
Pass Rusher Badges
Elite Spin Move: uses a spin move to get to the quarterback
Fighter: great at using his hands to fight off blocks
Bull Rusher: powers through blockers to get to the quarterback
Speed Rusher: elite speed and quickness to get to the quarterback
Technician: wins with fundamentals
DL Badges
Space Eater: draws double teams on run plays
Game-wrecker: can dominate the game with sacks, TFL, and forced turnovers
Run Stuffer: plugs up holes in the running game
Shot Blocker: great at swatting down passes at the line of scrimmage
LB Badges
Field General: ability to call out the offensive plays
Coverage Specialist: can shut down lesser players and will hold his own against elite players in pass coverage
Run Stopper: plugs up holes in the running game
Premier Blitzer: great at shooting the gap and blitzing
Get Off Me: easily gets off blocks, especially against weaker players
Tackle Machine: is always around the ball to rack up tackles
DB Badges
Pick Specialist: great hands for his position
Ball Hawk: baits the quarterback into throws that he can take the other way
Lockdown Defender: quarterbacks typically don't throw at him
Feared: some receivers tend to alligator arm passes or hear footsteps with him nearby
Elite Tackler: can make tackles other defensive backs wouldn't
Center Fielder: can cover the whole back end of the defense
Shy Hitter: avoids tackling bigger players
Puncher: ability to punch the ball out to force fumbles
Deflector: great at deflecting passes
Shadow: follows the opposing #1 receiver around the field
I'll Take a Third: elite cover 3 coverage on the perimeter
Slot Expert: excels at defending in the slot
Zone Expert: excels in zone coverage
Kicker Badges
Big Boot: can hit long field goals with room to spare
Automatic: deadly accurate
Proven: makes crucial kicks in the playoffs
Last-second Savior: makes kicks with the game on the line
All Player Badges
Expressive: voices concern about performance, playing time, or contract issues
Team Player: values winning over everything else
Mercenary: willing to sign a one-year or short-term contract to win a ring
Businessman: plays hard-ball in negotiations; wants to make as much money as possible
Legendary Work Ethic: the hardest worker at all times
Dirty Player: higher chance of personal foul penalties and ejections
Off-field Issues: can run into issues whether criminal, drug related, or otherwise
High Character: zero issues on or off the field
Fearless: can dive for the pylon by putting his body on the line
Breakout Potential: has the ability to become an elite player but isn't there yet
Injury Prone: a player known to get injured
Game-breaker: can take one touch to the house to change the game
Primetime: shines in night games
Ironman: almost never gets injured
Choke Artist: stats are decreased in big moments
Playoff Performer: steps his game up in the postseason
Showboat: a player known to taunt and celebrate
Humble: doesn't celebrate after making big plays
Clutch: makes big plays in big moments
Football Guy: plays through injuries if he can
Fired-up: gets teammates and fans pumped up
Coach Badges
Psychological Advantage: opposing coaches make decisions they normally wouldn't
Teacher: players have increased chance at earning badges
Former Player: players relate better to him
Offensive Mastermind: increased offensive stats
Defensive Mastermind: increased defensive stats
Schemer: easily schemes people open offensively
Motivator: players feel like they are in the game despite large deficits
PLAYER MODELS
Tom Brady | QB | Patriots
Throw velocity: 99
Arm strength: 96
Intelligence: 99
Pocket mobility: 99
Throw accuracy short: 99
Throw accuracy mid: 99
Throw accuracy deep: 97
TOR short: 98
TOR mid: 92
TOR deep: 90
Escape pocket: 96
Scrambling: 75
Play-action: 95
Speed: 70
Acceleration: 68
Agility: 76
Strength: 65
Toughness: 99
Badges:
-Championship DNA, Surgeon, Laser Arm, Back Shoulder Specialist, Cerebral Assassin, On-field Coach, Home-field Advantage, Play-action Specialist, Veteran Calls, Cadence Champ, Quarterback Sneak Specialist, Field General, Snowman, Mike Check, Staring Down the Barrel
-Team Player, Legendary Work Ethic, High Character, Primetime, Ironman, Playoff Performer, Clutch, Football Guy, Fired-up
Tevin Coleman | RB | Falcons
Speed: 96
Agility: 89
Acceleration: 99
Strength: 75
Ball carrier vision: 89
Patience: 82
Stiff arm: 83
Trucking: 79
Juke move: 81
Spin move: 80
Elusiveness: 79
Carrying: 89
Catching: 86
Catch in traffic: 82
Short route running: 83
Medium route running: 76
Deep route running: 76
Spectacular catch: 78
Release: 78
Jumping: 86
Pass blocking: 65
Run blocking: 62
Intelligence: 87
Toughness: 97
Badges:
–Screen specialist, Matchup nightmare, Track star speed, Elite receiver, 0-60
-Fearless, Breakout Potential, Game-breaker, Football Guy
Antonio Brown | WR | Steelers
Speed: 97
Agility: 99
Acceleration: 98
Strength: 67
Intelligence: 98
Catching: 98
Catch in traffic: 97
Short route running: 99
Medium route running: 99
Deep route running: 99
Spectacular catch: 97
Release: 98
Jumping: 90
Elusiveness: 98
Stiff arm: 83
Juke move: 98
Spin move: 87
Patience: 97
Ball carrier vision: 96
Run blocking: 69
Return: 96
Toughness: 96
Badges:
-Deep Threat, Back Shoulder Specialist, Chain Mover, Sticky Hands, Unguardable, Alpha Dog, Slot Expert, YAC, Running Back Skills, Double Move Master, Crisp Route Runner, Golden Hands, Catch in Traffic, Boundary King, Circus Catcher
-Legendary Work Ethic, High Character, Fearless, Game-breaker, Primetime, Ironman, Playoff Performer, Showboat, Clutch
Lane Johnson | OL | Eagles
Speed: 78
Agility: 75
Acceleration: 85
Strength: 88
Footwork: 85
Zone blocking: 88
Man blocking: 91
Pass blocking: 86
Intelligence: 77
Toughness: 84
Badges:
-Mobile Blocker, Bully
-Expressive, Off-field Issues
Ndamukong Suh | DL | Dolphins
Strength: 98
Tackle: 83
Hit power: 96
Block shedding: 87
Finesse moves: 73
Power moves: 92
Intelligence: 81
Play recognition: 84
Pursuit: 82
Speed: 73
Agility: 82
Acceleration: 81
Intelligence: 80
Toughness: 89
Badges:
-Big Hitter, Fighter, Bull Rusher, Game-wrecker
-Dirty Player
Vic Beasley Jr. | Pass Rusher | Falcons
Speed: 89
Agility: 85
Acceleration: 90
Strength: 83
Tackle: 80
Hit power: 86
Block shedding: 73
Finesse moves: 93
Power moves: 80
Play recognition: 83
Pursuit: 85
Intelligence: 84
Toughness: 88
Badges:
-Fighter, Speed Rusher, Game-wrecker, Shot Blocker
-High Character, Breakout Potential, Football Guy
NaVorro Bowman | LB | 49ers
Intelligence: 94
Speed: 82
Agility: 83
Acceleration: 85
Strength: 81
Tackle: 94
Hit power: 95
Block shedding: 89
Play recognition: 96
Pursuit: 97
Toughness: 95
Finesse moves: 67
Power moves: 79
Man coverage: 66
Zone coverage: 74
Badges:
-Big Hitter, Field General, Run Stopper, Tackle Machine
-Team Player, Legendary Work Ethic, High Character, Injury Prone, Primetime, Humble, Football Guy
Byron Maxwell | CB | Dolphins
Speed: 92
Agility: 89
Acceleration: 94
Strength: 77
Man coverage: 90
Zone coverage: 97
Press: 93
Intelligence: 90
Tackle: 63
Catching: 72
Hit power: 70
Block shedding: 52
Play recognition: 89
Pursuit: 76
Toughness: 75
Jumping: 89
Badges:
-Lockdown Defender, Shy Hitter, Puncher, Deflector, I'll Take a Third, Zone Expert
-Clutch
Justin Tucker | K | Ravens
Kick power: 98
Kick accuracy: 99
Intelligence: 94
Badges:
-Big Boot, Automatic, Postseason Performer, Last-second Savior
-High Character, Primetime, Proven, Showboat, Clutch
Bill Belichick | Coach | Patriots
Intelligence: 99
Offense: 98
Defense: 99
Game-planning: 99
Badges:
-Psychological Advantage, Teacher, Offensive Mastermind, Defensive Mastermind, Schemer
Part II of V, Presentation, will be released soon, which will help build the base of the fictional game. After that, we get to the good stuff in Franchise Mode and Career Mode.