In Part IV of V in "What Would a 2K Football Game Look Like?", we explain what the career mode would look like in a great football video game today. From the player creation to on the field, this career mode would improve on the weaknesses of NBA 2K17's MyCareer and Madden's almost nonexistent CFM. If you missed any of the first three parts, they are linked below.
Part IV: Career Mode
Part V: "Ultimate Team" Mode
PLAYER CREATION
The biggest issue with NBA 2K17's MyCareer mode is the kind of players you can make, meaning users are limited to being a "stretch big" or "glass cleaner." Basically, it's not possible to make Joel Embiid (a center that can dominate in the post, is athletic, and can shoot threes) or Blake Griffin (an uber-athletic forward that can dribble, pass, shoot, work in the post, and is an elite dunker). People can get to 99 overalls, but they end up just being amazing at a few things rather than a well-rounded superstar.
In Madden's "Career Mode," the pre-set attributes limit users even more. Here are the automatic starting statistics for a "mobile quarterback" that's an "early draft pick":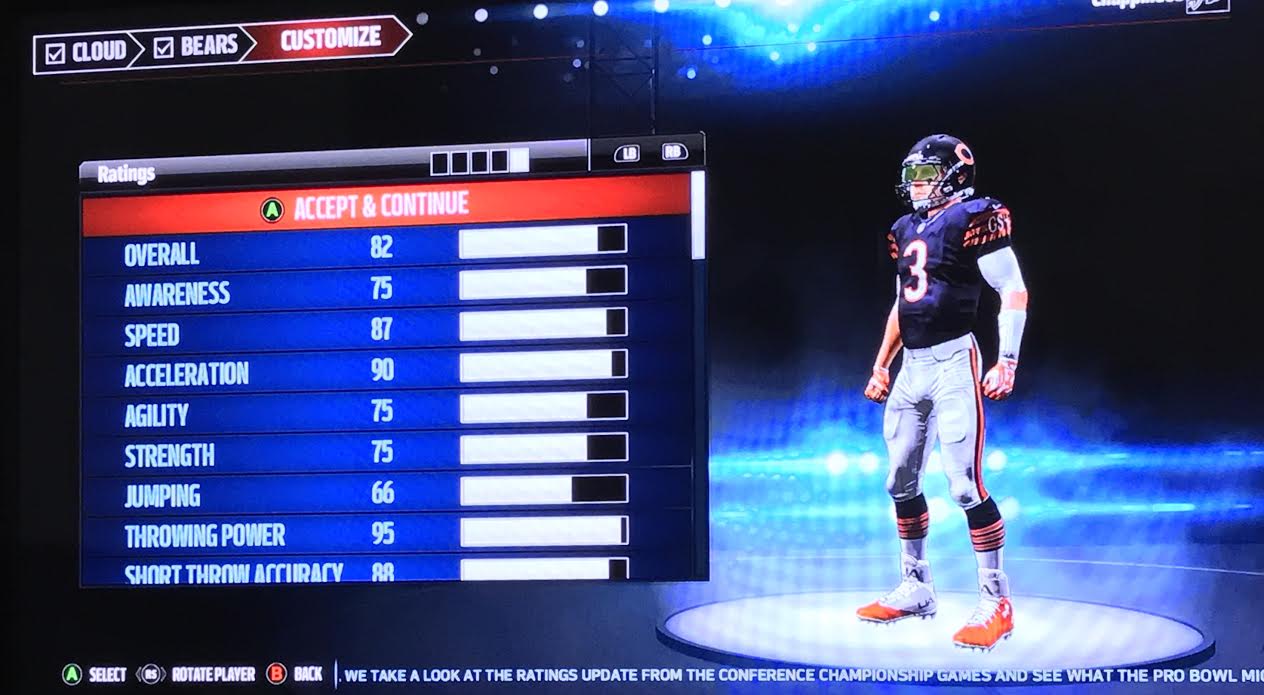 So now all mobile quarterback in the NFL automatically have a cannon arm with 95 throw power? And the agility is only a 75? The strength is also a 75, which is the third best for a quarterback in the game behind Cam Newton and Ben Roethlisberger. Oh, not to mention the fact that our created player was 5'10" and 180 lbs. That's pretty crazy, even for a video game.
Another thing that's unrealistic is that you have to pick your team when you start a career as a player. There is no draft process whatsoever. This is the closest users have to a "draft":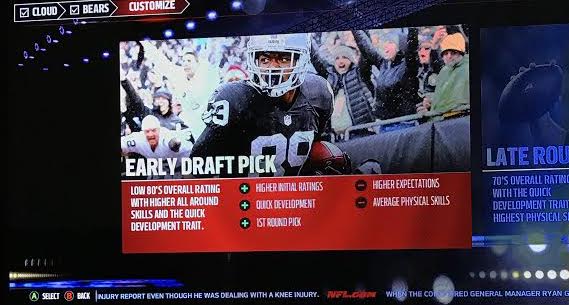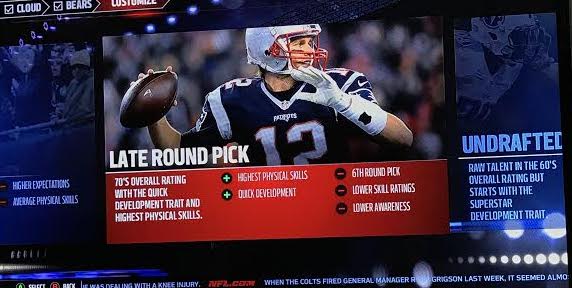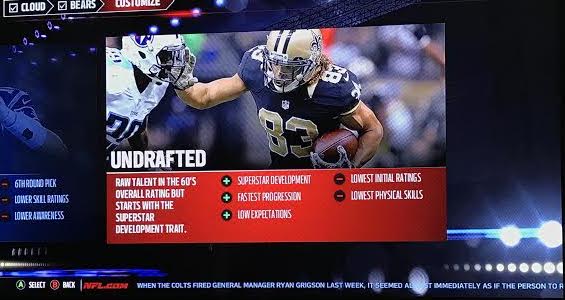 An early draft pick has "average physical skills" now? Undrafted players have "superstar" potential? Really? Instead of going on and on about the issues with Madden's player creation—which we could do for days—let's breakdown what our fictional game would do at the start of a Career Mode.
First of all, like NBA 2K, we would try to give users the ability to play the end of their college career to determine their draft status and starting attributes. Players would start with a certain amount of attribute points to spend before they start playing in college, which would be determined by the school they play at. For example, if someone chooses to play at Alabama, they would have more points to spend than someone that chooses to play at Memphis. This is because there is better coaching at the bigger schools, and there's also higher competition that would make it harder to put up big numbers.
After each game, there would be attribute points earned to add to the player. So users don't get caught up on their overalls, the overall rating wouldn't be available until after they are drafted. This gives users complete control over the creation of their player's ratings. If they want to make a quarterback with elite running ability, it wouldn't come at the expense of having solid passing attributes if they play well enough. It's not fair to gamers if they have to choose between being good at passing or being good at running, when there are NFL signal-callers good at both.
Now, will you be able to run like Michael Vick and throw like Tom Brady? No, because that's not something that's ever been seen, and it probably never will be. But can you model your player after Aaron Rodgers so that he can escape the pocket and still thread the needle? Yes, there would just be no "arcade" players in this game. The fastest starting quarterback in the NFL right now is Marcus Mariota, and he "only" ran a 4.52 at the Combine. If you want to get 95+ speed as a quarterback, your passing will not be as good as you'd like. Here is a quick, realistic model for a quarterback in his prime for Career Mode (you'd have to be really good at the game to get this good):
Throw velocity: 94
Arm strength: 95
Intelligence: 96
Pocket mobility: 91
Throw accuracy short: 93
Throw accuracy mid: 91
Throw accuracy deep: 94
TOR short: 98
TOR min: 91
TOR deep: 87
Speed: 91
Acceleration: 94
Agility: 92
Has there anyone that has been that good in NFL history? Probably not, but it's something that is definitely possible one day. To be clear, people would have a chance at getting all their passing ratings close to 99 if they keep their running attributes below, say, an 85.
The badges you start your professional career with will depend on the play-style in college. For example, if you dominate on play-action passes in college, you will start in the NFL with "Play-action Specialist" badge. [Note: if you aren't familiar with "badges," there is a breakdown in Part I]
When finally done college, players will spend all their attribute points before starting the pre-draft process. The maximum overall rating depends on the position. As a running back, for example, there's a chance you can start as a 90. As a quarterback, though, you need to play out of your mind to reach the mid/upper 80s to start your career.
Even with a high overall after a successful college career, users better not blow the interviews with NFL teams leading up to the draft. If you come off as arrogant and not a team-player, it could cause a draft day fall. On the other hand, you can win NFL teams over by acing the interviews, causing you to move up draft boards. So you know exactly what your entire answer is, the entirety of your words would be there to read.
[Just as a side note for those who may have been wondering, there would be cut-scenes and story elements, but the story would be determined by you. Unlike NBA 2K's MyCareer, you wouldn't be locked into a crazy story where your father dies or whatever. We will have more about this in the "Decisions" section below.]
There will be more about the pre-draft process and the draft in later, so let's move on to what your player looks like gear-wise. In real life, most NFL players don't wear the same exact thing day and night, home or away, sunny or rain, etc., but that's exactly what they do in Madden. An NFL 2K game would give users the options to set their gear/clothing for home and away, different weather, and different times of day. For example, someone that wears a dark visor for the sun won't need that for a night game, and someone might want to wear a white undershirt at home but a team color one on the road.
Like NBA 2K, there would be dozens upon dozens of options for gloves, cleats, arm wear, and more. People would be able to make their player, for once, their player. Also, as far as jersey numbers go, it would be a realistic process in choosing a number. If you are the first overall pick and want #3 but a second-year punter has it, you will be able to buy it from them. If you want that number and are drafted by the Cardinals, though, Carson Palmer isn't giving it up until he retires. Palmer was used as an example because in Madden, they forced him to change his number in a CFM for a user player—that wouldn't happen in real life.
GAMEPLAY
This is a huge deal, because career mode in Madden has flat-out terrible gameplay. As a quarterback, you are in charge of calling plays, using timeouts, deciding to go no-huddle, deciding to spike it, and basically everything else. Does Tom Brady even have that kind of control? No, and it's crazy that users have control over all of that, especially as a rookie at the start of the mode.
And what's even crazier? Users have control over all of that no matter what position they are. So, wide receiver will be in charge of calling plays in Madden's CFM. Gamers don't even have that much power in superhero video games.
A good MyCareer would have realistic control over the game. If you are a quarterback, you'd probably start with no control over anything except for a few checks and audibles at the line of scrimmage. With more success and experience would come more control, but users wouldn't have the ability to call the entire game like they do in Madden. The maximum would be having influence over the type of play in key situations, such as third down and in the red zone, or occasionally picking a play. If you struggle with bigger responsibility, you might lose some control on offense.
For defense, star linebackers would have similar control as quarterbacks, and very rarely a safety might get a lot of control. If you are a cornerback, pass rusher, or defensive lineman then there is going to be extremely limited control (shifting the line, calling a stunt, or other minor things).
The same would go for offensive players who aren't quarterbacks. Pass catchers, running backs, and linemen have no business choosing plays or calling audibles—even in a video game. As a wide receiver, tight end, or running back in Madden, users could easily break their routes off and probably result in a huge gain. While that happens sometimes in real life, it usually takes a bust in coverage or great chemistry with the quarterback. In a video game, there should be serious consequences for not running the right route.
Something that would make things more challenging, but also better, as a wide receiver is to make catch a different button every time. If there is a tough catch down the sidelines or a jump ball, you might need to press a less common button like a trigger or analog stick down to bring it down. Also, a pass thrown to you in traffic could need better timing (pressing the button) to hold onto the ball.
DECISIONS
The thing that makes Madden's CFM unplayable for more than a short amount of time is the decision-making process, or lack thereof. What happens in career mode in Madden is you do a practice, you do a game… and that's about it.
There are is no draft, no contract negotiations, and no ability to request a trade. What you are able to do is demand your release, but in real life, even star players don't have that kind of power. After a few weeks of mindlessly playing games, CFM gets really stale as a player.
First of all, players would need to pick an agent to represent them. The game would have several agents to choose from, all with different skills and personalities. Maybe Drew Rosenhaus and other actual big-time agents would want to be in the game, which would be awesome.
As explained earlier, there would be a pre-draft interview process before you even get drafted and start your NFL career. Also, you'd be able to basically refuse to play for a certain team, like Eli Manning did in 2004. It'd be pretty annoying to go through the whole player creation process to only get drafted by a team that you hate and refuse to play for. A list of three-five teams to not play for seems fair, and you can choose to put no one on the list, too.
Leading up to the draft, users must decide if they want to attend the draft or stay at home, which would shape your personality a bit as to whether you are outgoing or an introvert. Users would also have control over their draft night attire, which could include a flashy suit or a simple and clean look.
The draft itself would have one situation for everyone (a phone call with the owner/coach/GM after getting drafted), but there could also be a rare case where you fall in the draft for some reason, whether it's character concerns after the interview process or questions about your transition to the NFL; that would lead to a choice of a) staying in the green room with a brave face b) quietly leaving or c) causing a scene and leaving. After getting drafted, users would then have the choice of how to spend the rest of the night (we don't recommend hardcore partying).
There isn't much to negotiate for your rookie contract, so agents would completely handle that. Next, you need to decide what jersey number you want and the equipment you'll wear. If a guy already has the jersey number you want, you could pay them for it or play them for it. How crazy would it be to have a mini-game of ping pong or something else to actually play in-game for a jersey number?
After players are settled into their new teams, decisions would come up throughout your career about lifting weights, getting extra practice in, studying film, etc., or you might want to hangout with friends or film a commercial when you get popular enough instead. All the decisions in NBA 2K's MyCareer can make it frustrating and time-consuming to get through the mode, but the same won't be true in a NFL 2K game because it's just a 16-game schedule.
Similar to Road to the Show in Sony's MLB the Show, there would also be things that users can talk to management or the coaching staff about, including playing time, requesting a trade, staff suggestions, and more. Those conversations would be able to take place at any time.
We could go on and on about decisions, but just know that they would influence the type of person you are in the game. Making poor decisions could hurt your reputation, potentially leading to less money and less stuff for…
THE CRIB
This needs no explanation for those who ever played ESPN NFL 2K5, but it would be even bigger and even better in an NFL 2K game today. It would be awesome to have a different style "crib" based on your personal preference and the city you play in. You play for the Jets? Here's your view if you want to live in a sick NYC apartment: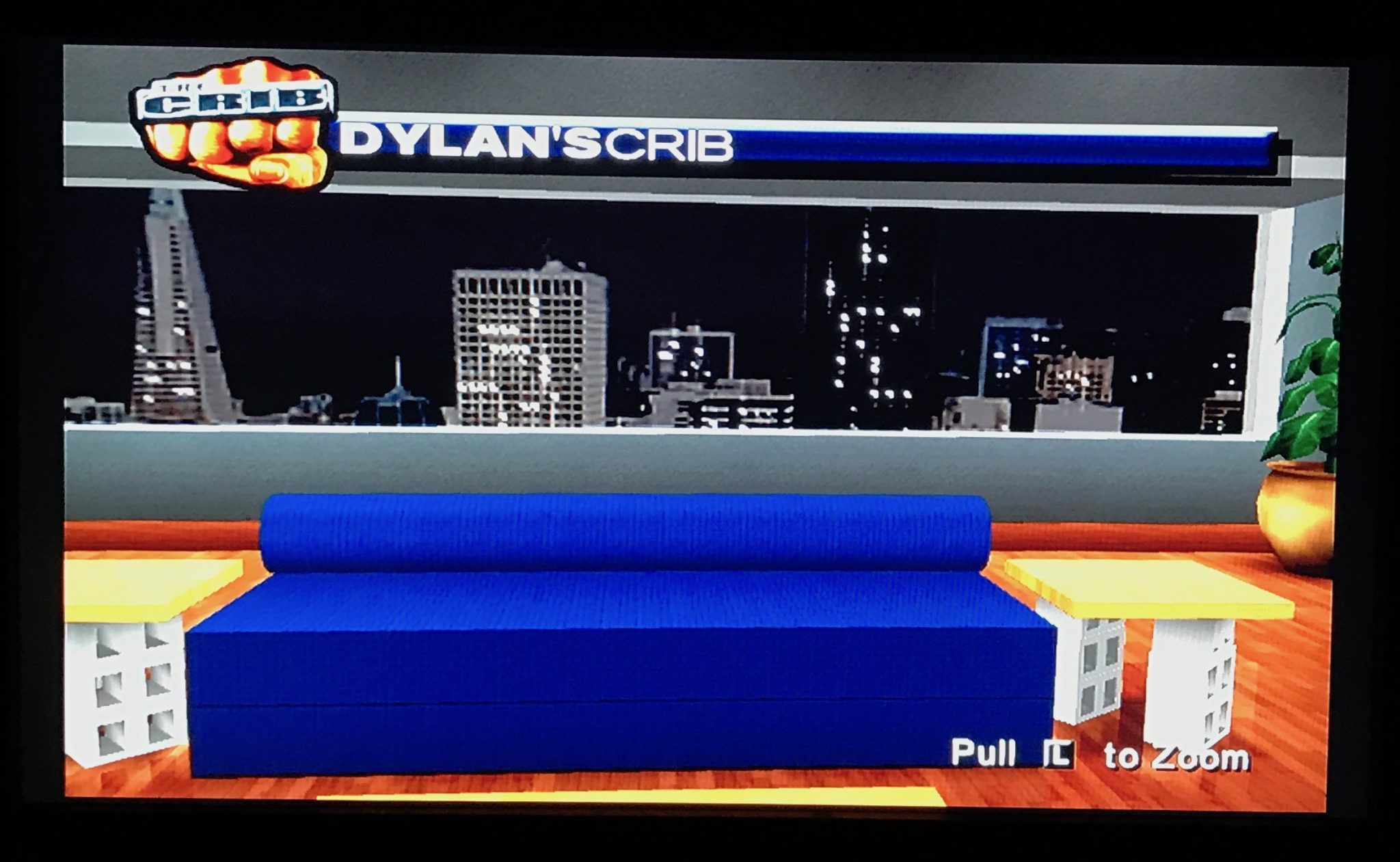 People would be able to get whatever house they want based on earned VC, and as an early first round pick, a nice signing bonus would let you get some of the best cribs to start out with. Users would get to choose the outside of what their house looks like, but the inside is where you really can get creative.
ESPN NFL 2K5 was really ahead of its time when it came to the crib, and 2K Sports would be able to take it so much further today. Instead of automatically having a bar, fireplace, pool table, etc. in your crib, users would have complete control over what's in their home. We're just going to rattle off some things that you could potentially get in the game without going in-depth about it, because we could go on forever:
Home theater
Garage with tons of vehicles
Pool table, ping pong table, air hockey table, etc.
Dart board
Arcade games/machines
Popcorn machine, ice cream machine, etc. (Skittles machine?)
Fireplace
Trophy room
Bar
Swimming pool (indoor or out)
Basketball court (indoor or out)
Dining hall
Aquarium
There would obviously be the basic customizable things like floors, furniture, etc., and you would also have the option of buying sick vehicles. Now, does any of this have an in-game impact? Not really, but it makes it more realistic, and realism is a key factor that's missing in Madden. For those just worried about playing games, there would be an option of getting a home designer to take care of things, or simply ignoring it altogether.
POST CAREER
After deciding to retire, users would have the option of going into coaching or management if they so choose. It would simply be a continuation of the world you created as a player. If you were an all-time great quarterback (like John Elway or Peyton Manning), there is a chance you can immediately become a GM after retiring. If not, you'd have to start out as a position coach and do a good job for at least a year before choosing the option to be a GM if that's what you want. If you decide to work your way up to become a head coach, it would work just like was explained in Part III.
Besides that, post career as a player would just have the Hall of Fame if you were good enough to make it. Users would be able to either simulate to their induction or play as a coach/GM until being inducted in five years (or whenever). If there's no chance you make it to Canton, and don't go into coaching/management, that would be it.
Fade to black.
Thanks for reading Part IV, Career Mode. The fifth and final part, covering the "Ultimate Team" mode, will be released soon.